Lost foam E-Zine  Sept. 2008

Backyard Foundry

        E-Zine

Sorry I haven't gotten an e-zine out for quite a while...I have been busy with life I guess! 

   Well, my wife took the kids on vacation for a few days so I went to work...er...I mean play!

Remember to be safe in all you do and don't blame me if you hurt yourself!

Here is a picture of our garage (where the car usually is parked) while my wife was gone.

I am also working on a furnace which will be the next e-zine.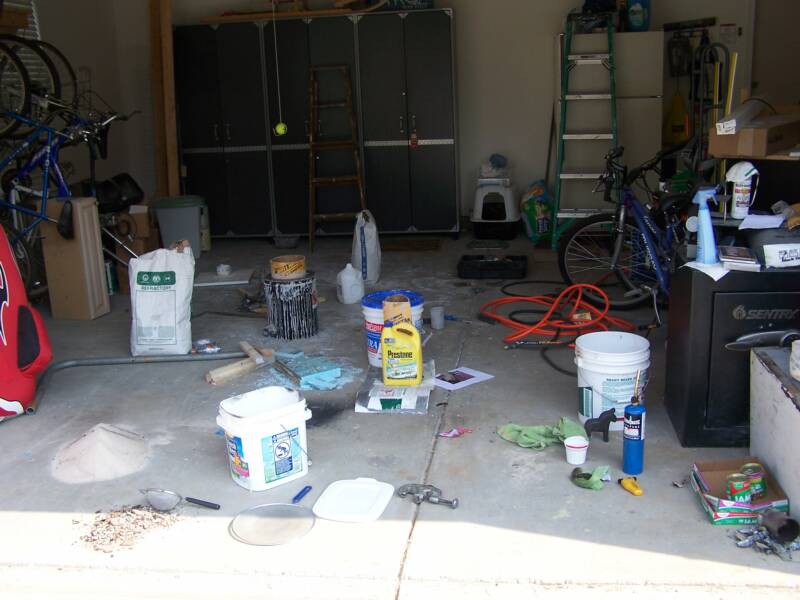 This project was inspired by one of my friends who said she wanted a Swedish horse done in metal.

For this lost foam project, I used the pink insulation foam.  I just noticed, you can see the foam that I cut it from in the above picture.  It was a two inch thick piece that I cut with a drywall saw.  I wanted a rough cut so that the surface would be pitted and would give the final piece an antique look.

I love this drywall saw because it looks so wicked!


Here is the picture I used for the pattern:                    And here is the piece cut out and covered with















a thin coat of runny drywall mud.  I used a paint                                                                                                 brush to apply the mud.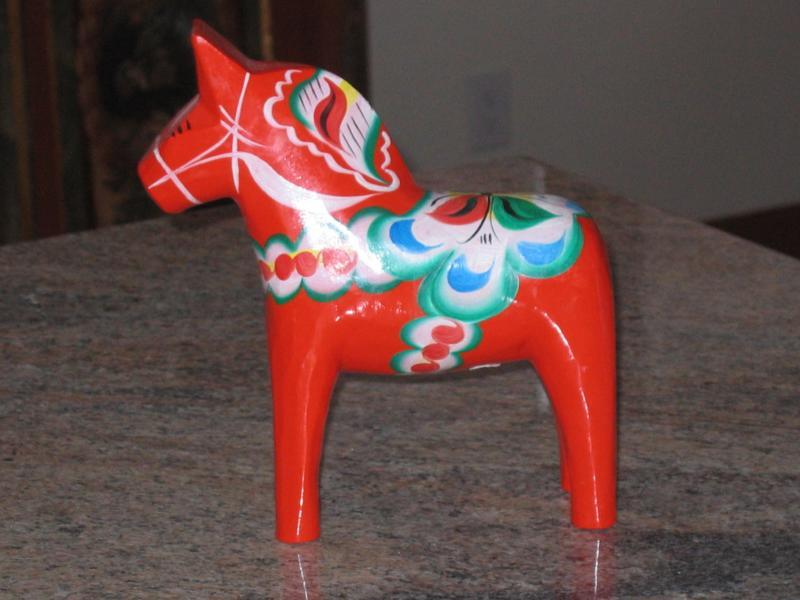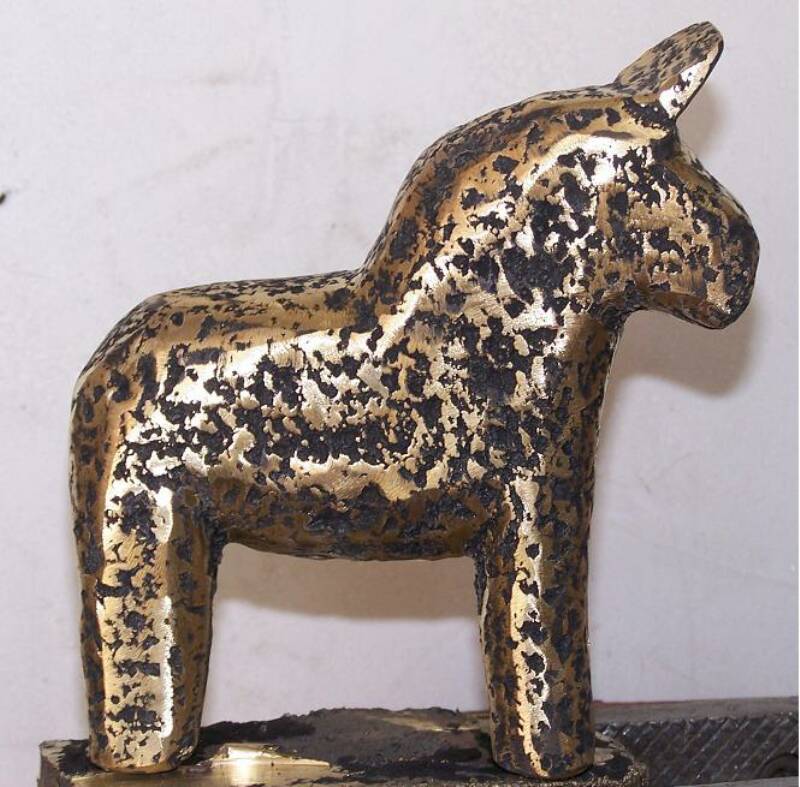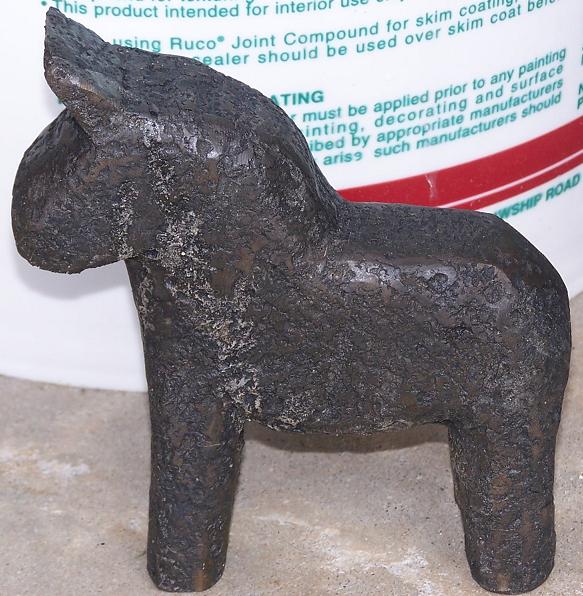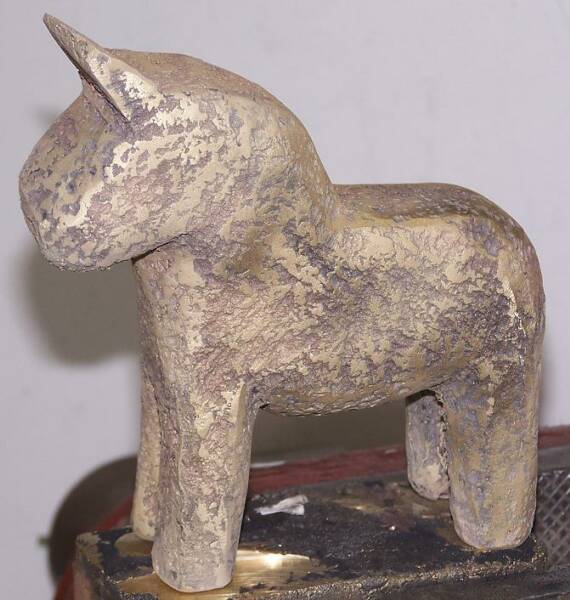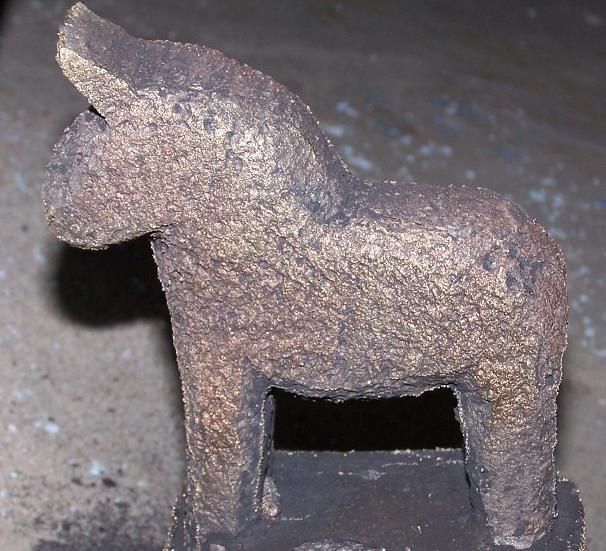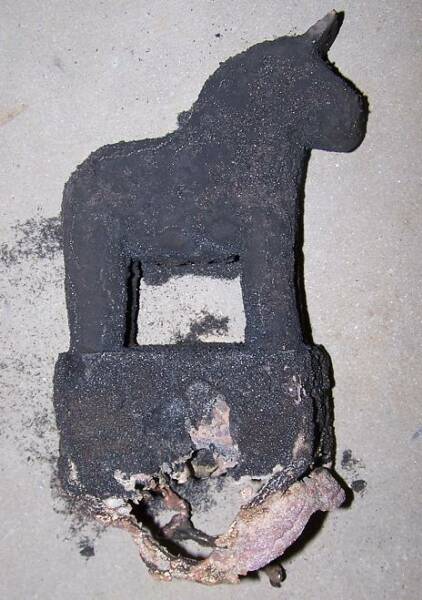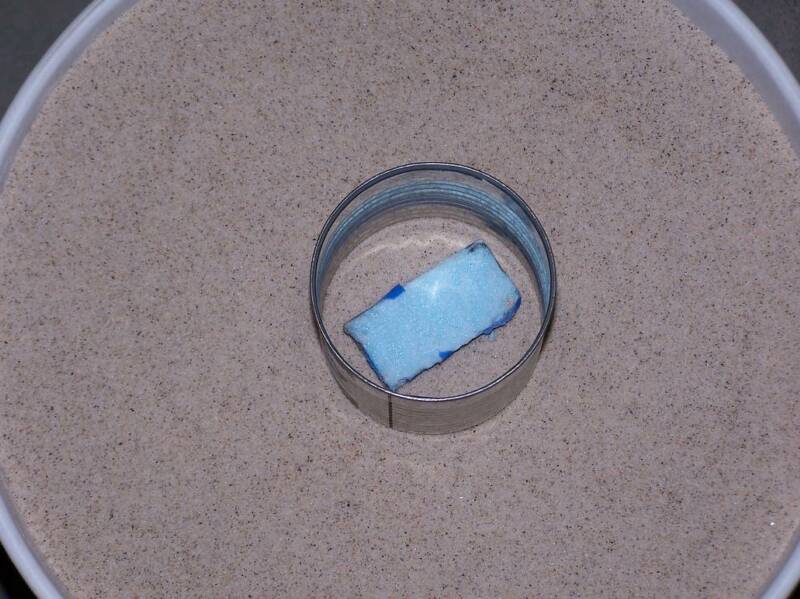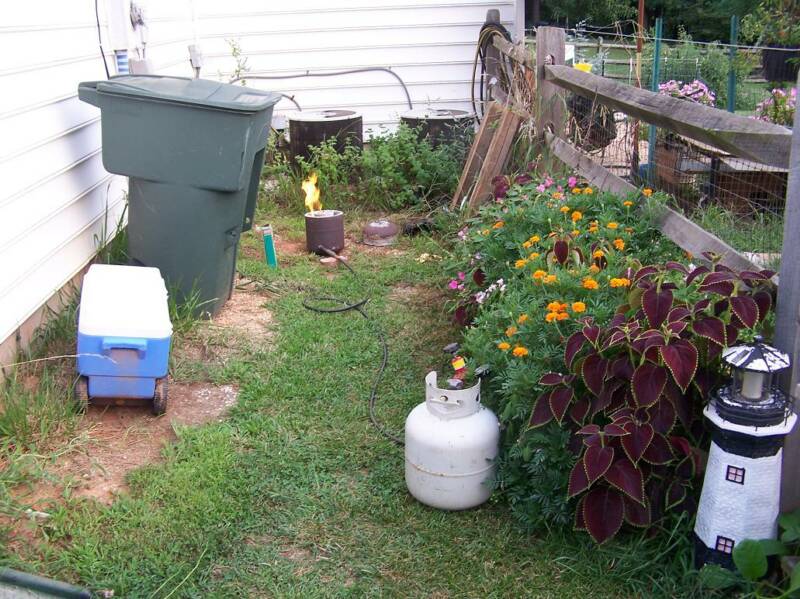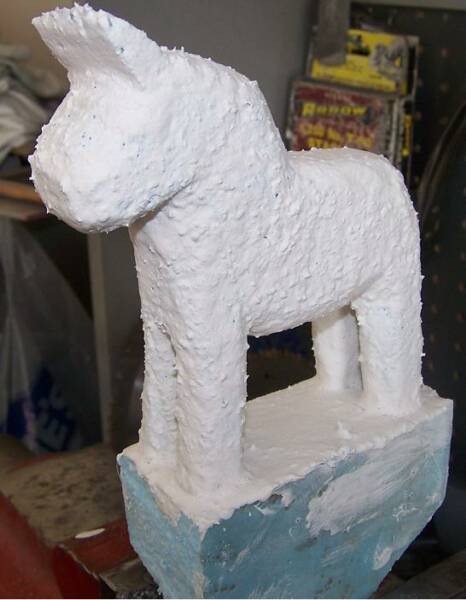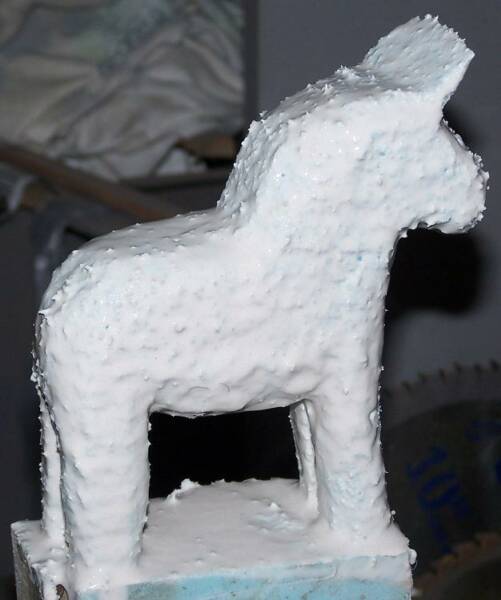 Here is the drywall mud dry and you can see the reservoir.  I glued the horse to this with a hot glue gun.  The angle goes to the sprue.

I forgot to take a picture of it, but I put masking tape on the sprue and reservior.  I feel like this helps to keep the sprue from collapsing.

Here is the foam imbedded in the loose sand.  I used a tin can with both ends cut off for a nice pouring funnel

When pouring lost foam, the metal needs to be hotter than normal...especially if you are trying thin sections and/or pouring aluminum.  It is also important to pour as fast as the sprue will accept the metal to keep the sprue from collapsing.

I used brass plumbing fittings for this pour.   I put some borax in the crucible at the start and also some crushed food grade glass.  The glass makes a nice cover over the molten metal.

   Here is the horse right when it was pulled out of the sand...still nice and hot!

Here it has been wire brushed a little.

Next, I ran over it with a sanding disc in my angle grinder and sand blasted it.

I used something called "liver of sulphur" to make it the dark color.  I got it from a glass (art) shop...no one else knew what it was.  It mixes with water and then, you run a torch over the brass piece while you dab it with the mixture.  It took a while for the propane torch to heat this chunk of metal enough for it to work!  I believe I got this idea from Ammen's book, "
Metalcasting
".
Here is the finished horse after I ran the sander back over it and put on a few layers of shellac.  I used "Increlac"  It is an industrial coating that I heard about from Jerry Twadell.

This picture is of my "foundry area".  I don't know why I planted flowers in my foundry!?!

My furnace is made from a helium bottle.  I lift the lid off with my gloves and set it on some fire bricks...This pour was done using brass plumbing fittings.

   This picture is right when I started the furnace, before I opened up the choke on my Mikey burner.

Well, that's all Folks!  Hope you enjoyed it...leave a message on this page in the guestbook so we can all see who has been here!  I am going to be finishing up my furnace soon and will send that out when I am done.  You can see the start of it in my garage picture.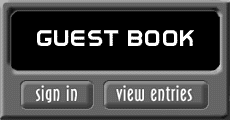 Here is a video of me pouring a lost foam casting....Not the horse!

Please sign my guest book....This is a public guest book, so you can see comments other people left.

New Grandbaby

01-23-2009!

larger pic at bottom of page

Here is the finished horse in it's "final resting place!"